2019-09-21
On Sep. 18, Liaoning Huari New Materials Co., Ltd. carried out the training activity for thmatic educational of "Remain True to Our Original Aspiration and Keep Our Mission Firmly in Mind". The district committee attaches great importance to the thematic education work in HUARI, and expedited a guidance group to give specific guidance. Liu Mingjie, our company general manager and leader of the Party group, together with Party members of the company attended the activity.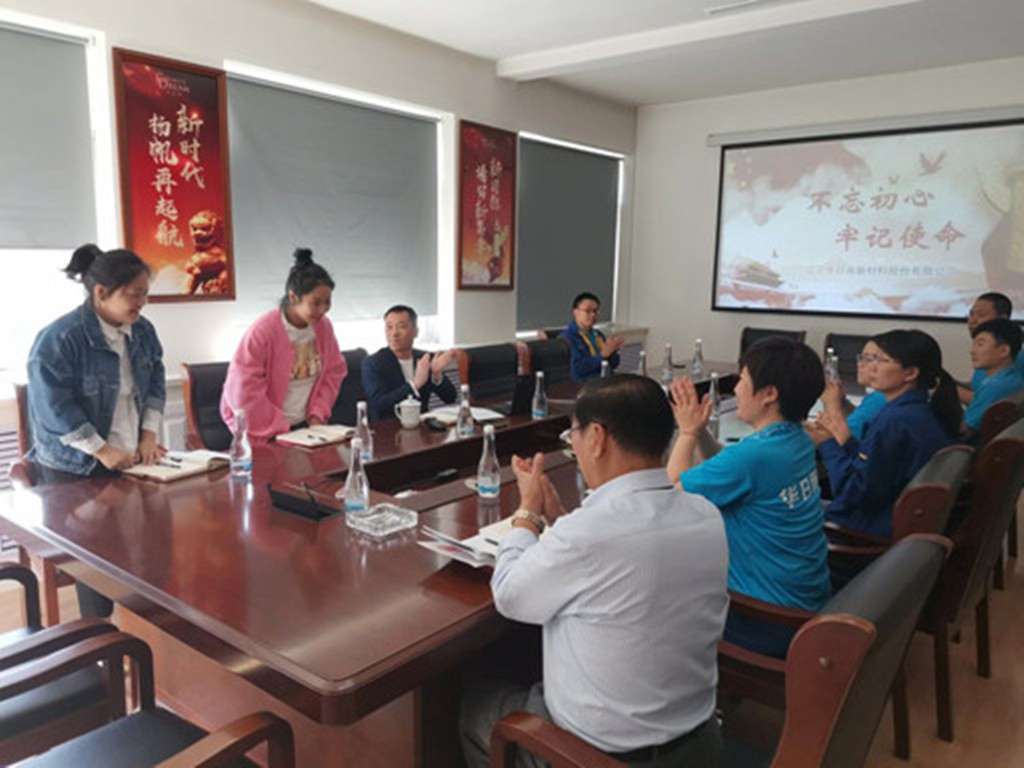 Liu Mingjie pointed out at the activity, this special training is important work for the thematic education, our aims are to deepen our understandings according to president Xi Jinping's New Era thought and scientific system of socialism with Chinese characteristics, rich connotation, and state-owned enterprises reform and development under the new situation and party building work important understanding, education guide party members and cadres to improve political stance, ideological stance, understand and grasp new era xi core factor of the thought of socialism with Chinese characteristics, further enhance the performance of the mission of the sense of responsibility, do make progress in ideology and politics.
He stressed that company leaders, Party secretary and Party members should learn first and learn more. First is to firm faith. It is the starting point and foothold for Party cadres to start their own business to have firm ideals and beliefs and to set the political orientation. As a Party cadre, "Remain True to Our Original Aspiration and Keep Our Mission Firmly in Mind" is to continuously strengthen politics theoretical study, armed with Xi Jinping's new era of socialism with Chinese characteristics, to establish "Four Consciousness", enhance "Four Confidence", and accomplish "Two Maintenance" political consciousness, firming ideal faith and strengthening the Party spirit conscientiously. Second is to keep our mission firmly. Currently, our Party is undergoing a great struggle that has many new historical characteristics, we must accurately grasp the new mission, new requirements, working in company is also an important part of this great struggle, we need to consciously make thoughts and actions into the Party's historical mission and goals, further enhance the responsibility sense of mission of company development. Third is to learn with problems. We must adhere to the "learning the original work, understanding the principle, associating with the reality, improve the ability" as the basic requirements and fundamental method of learning, closely combined with company's actual construction and development, to find self problem and gap based on their own work reality, then make immediate changes.